Super Nintendo Classic Mini è in offerta presso l'Amazon Wharehouse a un prezzo eccezionale.
Se avete intenzione di recuperare uno di questi dispositivi, fiore all'occhiello per gli appassionati retr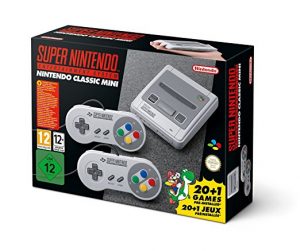 ò e per chiunque voglia vivere alcune delle più interessanti esperienze Super Nintendo, lo store Amazon che rivende a prezzo ridotto i prodotti con confezioni danneggiate, prodotti usati, rigenerati ecc. offre il Snes Mini a un prezzo davvero unico.
E' il momento ideale anche se volete giocare di anticipo sui regali di natale, facendo la gioia di qualche amico amante del retrogaming, o magari per iniziare figli o parenti allo straordinario mondo dei capolavori Snes.
Per chi non lo conoscesse, l'edizione Super Nintendo del Classic Mini è una riproduzione in miniatura della storica console prodotta dalla grande N e foriera di alcuni dei più grandi capolavori della storia del videogame.
La confezione include la consolle, i relativi cavi (naturalmente l'immancabile HDMI), così come 2 gamepad.
Come da tradizione per questo tipo di iniziativa, la console contiene una serie di giochi precaricati, facilmente fruibili attraverso un intuitivo menù realizzat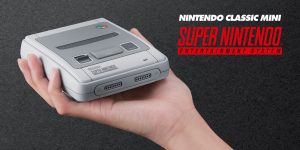 o con la tipica cura Nintendo.
La panoramica di giochi offerta ci darà la possibilità di giocare per ore e ore, grazie alla scorpacciata di capolavori presenti che vanno a toccare i generi più svariati e a coprire alcune delle produzioni più amate dagli appassionati e soprattutto ancora tremendamente attuali.
Ecco di seguito la lista completa dei titoli presenti all'interno di Super Nintendo Classic Mini:
– Contra III The Alien Wars
– Originally released in Europe as Super Probotector: Alien Rebels
– Donkey Kong Country
– EarthBound
– FINAL FANTASY® III
– Originally released in Japan as FINAL FANTASY® VI
– F-ZERO™
– Kirby Super Star
– Originally released in Europe as Kirby's Fun Pak
– Kirby's Dream Course
– The Legend of Zelda: A Link to the Past
– Mega Man™ X
– SECRET of MANA®
– Star Fox
– Originally released in Europe as Starwing
– Star Fox 2
– Street Fighter™ II Turbo: Hyper Fighting
– Super Castlevania IV
– Super Ghouls'n Ghosts™
– Super Mario Kart
– Super Mario RPG: Legend of the Seven Stars
– Super Mario World
– Super Mario World 2: Yoshi's Island
– Super Metroid
– Super Punch-Out!!