Il ritorno di una grande console
Sega Mega Drive mini scalda i motori e si prepara al lancio previsto per il 4 ottobre in europa.
La mini console di Sega vanta un gran numero di titoli che la compagnia non vede l'ora di mos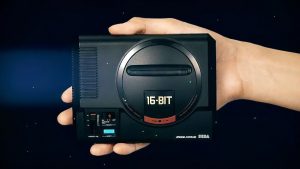 trare agli utenti, soprattutto a coloro che, all'epoca non erano nati, o magari non hanno avuto la fortuna di possedere o giocare da amici alle meraviglie di Sega Mega Drive.
La selezione dei giochi, annunciata nelle scorse settimane farà felici un po' tutti.
Ci sono infatti un gran numero di generi, oltre a prodotti che riescono a mantenere la loro originalità anche a distanza di anni e anni.
Ecco di seguito i titoli inclusi nella retroconsole Sega Mega Drive Mini:
Sonic The Hedgehog
Ecco the Dolphin
Castlevania: Bloodlines
Space Harrier 2
Shining Force
Dr. Robotnik's Mean Bean Machine
ToeJam & Earl
Comix Zone
Altered Beast
Gunstar Heroes
Earthworm Jim
Sonic The Hedgehog 2
Castle of Illusion Starring Mickey Mouse
World of Illusion Starring Mickey Mouse and Donald Duck
Contra: Hard Corps
Thunder Force III
Super Fantasy Zone
Shinobi III: Return of the Ninja Master
Streets of Rage 2
Landstalker
Mega Man: The Wily Wars
Street Fighter II: Special Champion Edition
Ghouls 'n Ghosts
Alex Kidd in the Enchanted Castle
Beyond Oasis
Golden Axe
Phantasy Star IV: The End of the Millennium
Sonic The Hedgehog Spinball
Vectorman
Wonder Boy in Monster World
Tetris
Darius
Road Rash II
Strider
Virtua Fighter 2
Alisia Dragoon
Kid Chameleon
Monster World IV
Eternal Champions
Columns
Dynamite Headdy
Light Crusader
Il ritor
no di una console cult
Certo, il mercato delle mini console è affollato; il ritorno di Sega Mega Drive sembra però ben più curato di altre iniziative di questo genere e non vediamo l'ora di vedere la mini console in azione.
Ottobre non è poi così lontano, non ci resta quindi che attendere l'uscita!